Here are the latest releases and features from Evolv AI.
October 11, 2023
Improved A/B Test reporting experience
Manager
We've improved the A/B Test workflow in the Manager to expose more performance metrics.
From the Variables page, click on any non-control variant to open the Variant Performance panel. You can now access the same performance metrics you'd expect to see in a Continuous Optimization project.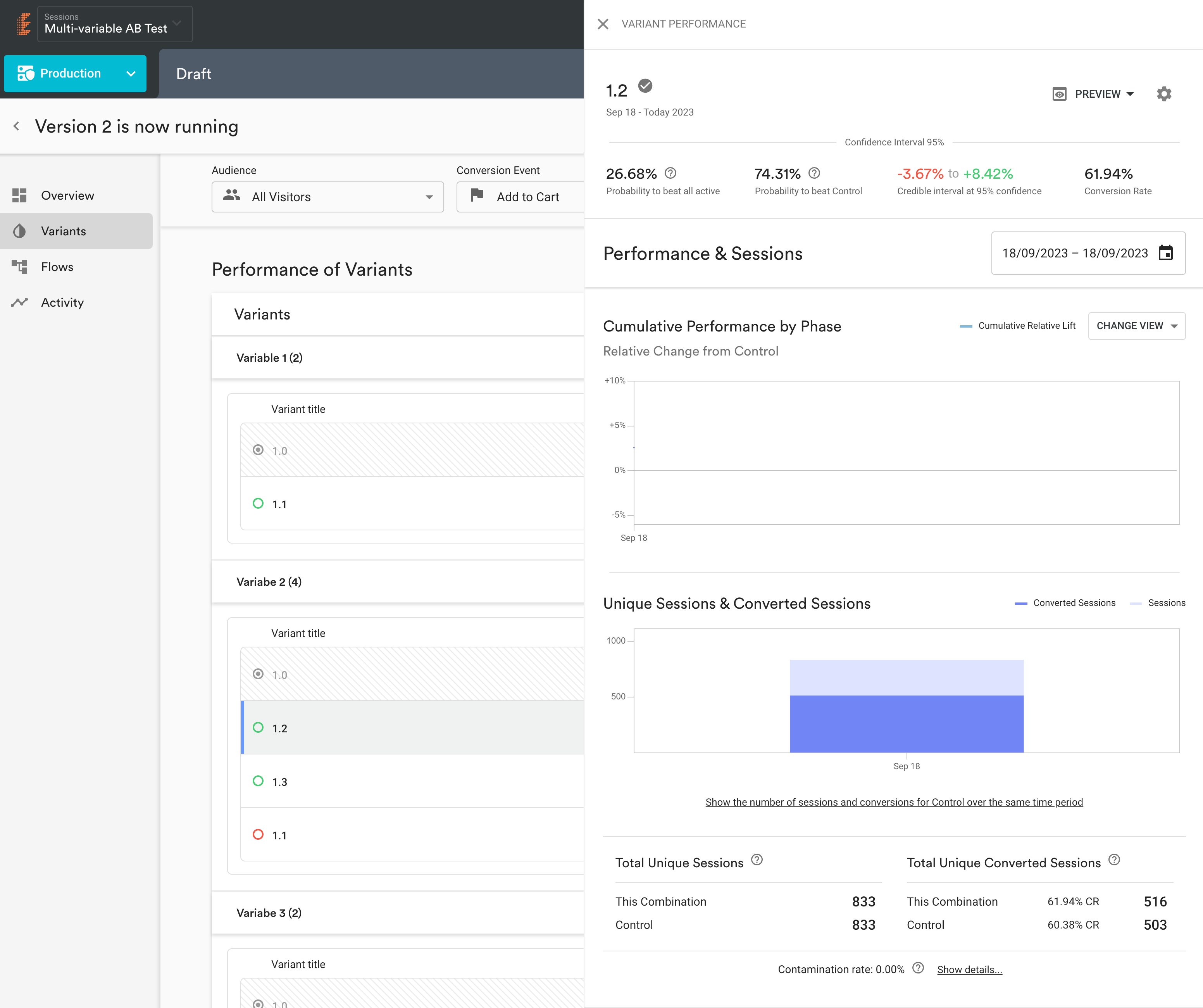 October 11, 2023
Show advanced project details
Manager
You can now view advanced project details on the Projects page.
Click the settings icon and select "Show advanced settings" to view each project's current Version ID and last modified date. These values only apply to projects with started project versions.
You can even click the Version ID to copy it directly to the clipboard.

October 11, 2023
Show the relative change for Non-control versus Control conversion rate
Manager
Hover the mouse over the non-control conversion rate to see the relative lift in a tooltip.

October 5, 2023
Web Editor Release - New Generative AI Features
Web Editor
This month we are excited to release our new range of generative AI features straight out of Beta, ready for public use.
Create variant code by talking to "ALLI", the new AI Assistant.
Generate text variations.
Generate and host images.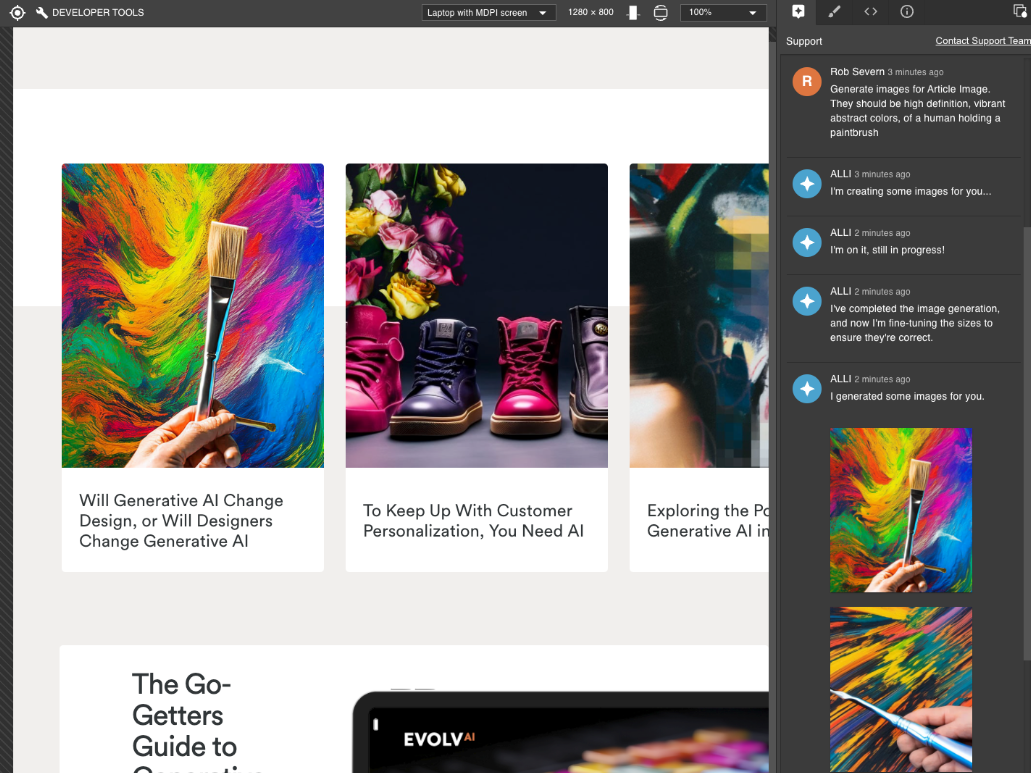 July 31, 2023
Project notes in the activity feed
Manager
When you deploy a new project or changes to an existing project, the deploy modal has an optional field for adding notes. This lets you document deployments with meaningful messages for you and your team.
Deployment notes appear in the project's Activity feed beside your project changes.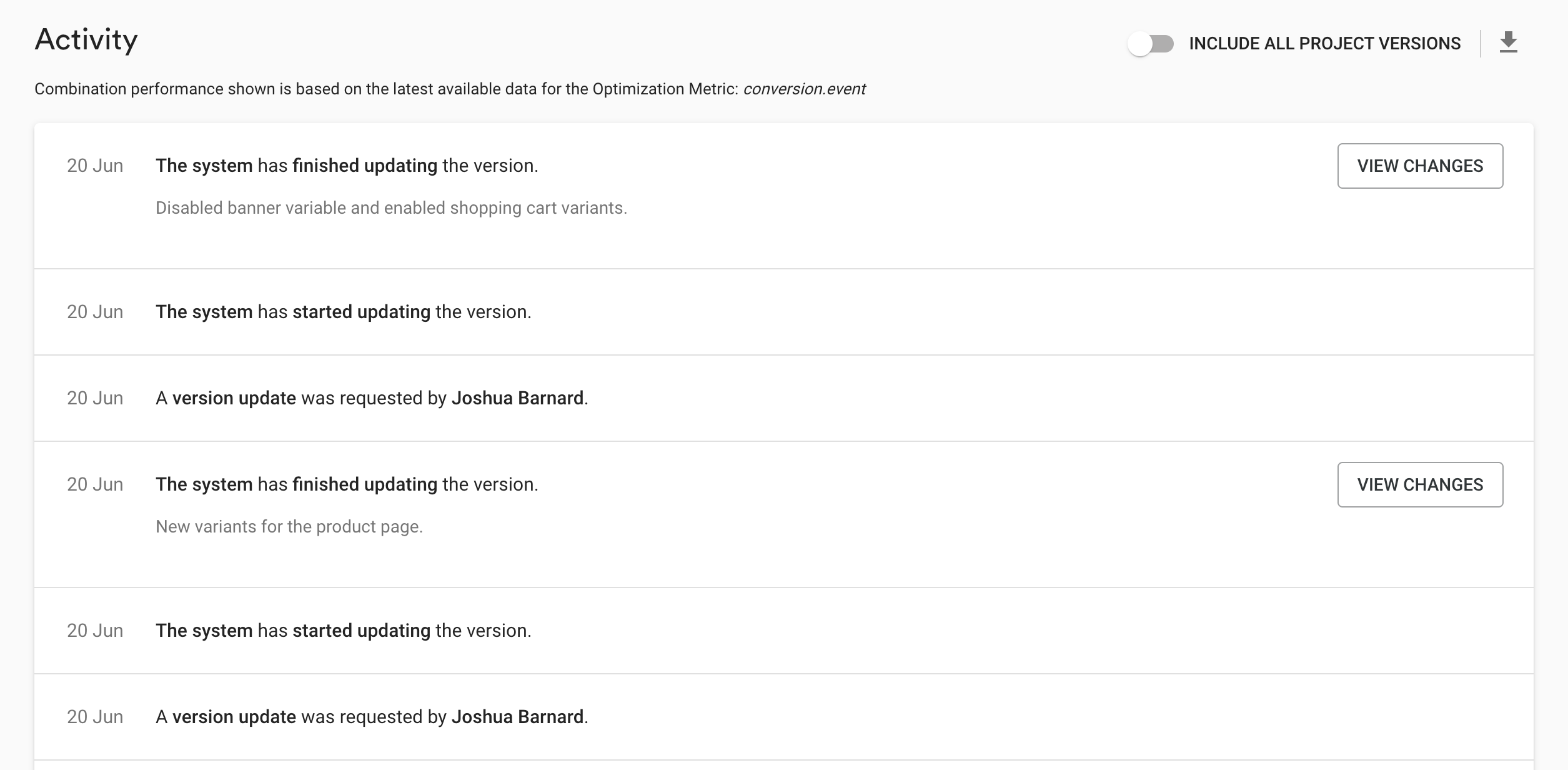 July 26, 2023
Delete audiences
Manager
If you need to delete an unused audience, go to the Audiences page and click on the audience you want to delete. Click the DELETE NOW button to remove the audience from the list of visible audiences in the Manager.
You can only delete audiences that are not part of any active projects. If the delete option is unavailable, the audience is still in use.

Date and time audience options
Manager
With date and time options in the audience builder, you can create timed project audiences and variable targeting to let your optimizations appear to users exactly when you want them to.
Select from local and UTC options including: day, month, year, hour, minute.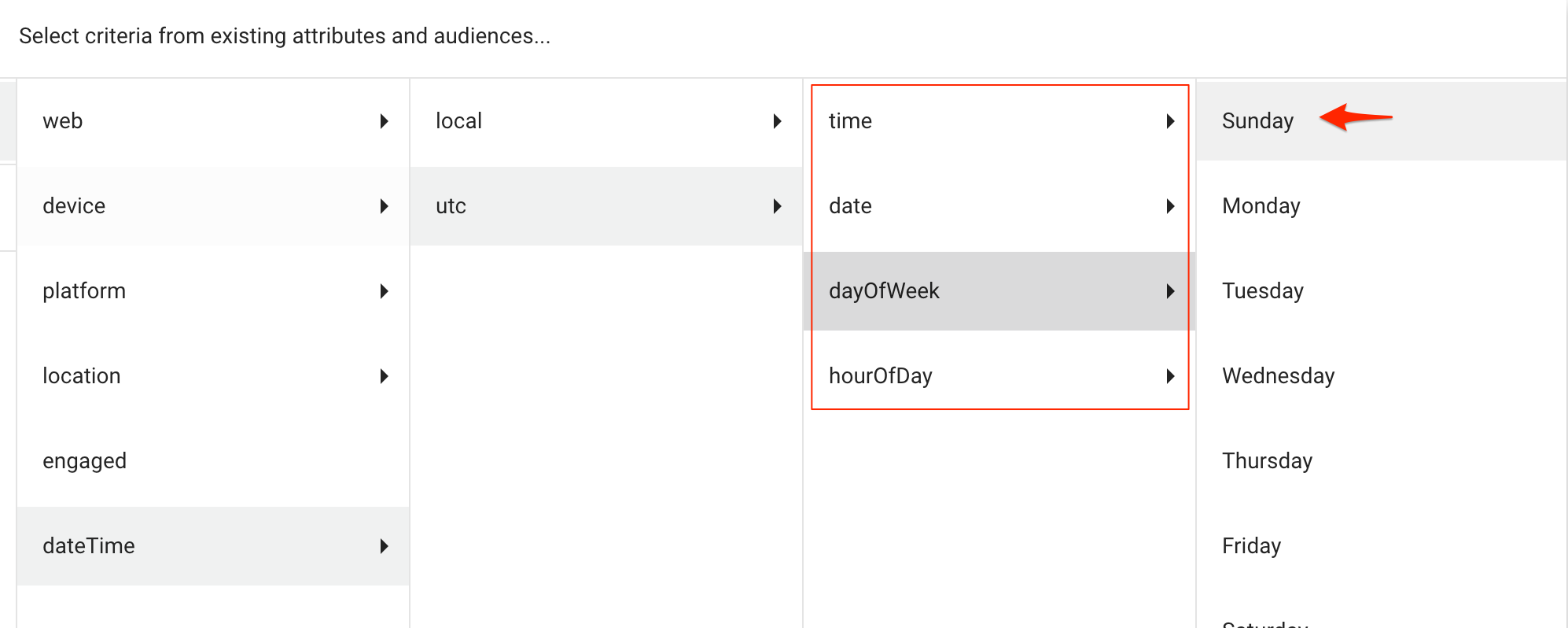 We are rolling out the dateTime options to all accounts. If the timers are not available and you want to use them, contact support.
June 21, 2023
Protect a combination from being deactivated
Manager
You can manually protect a combination from being deactivated by the system.
The system regularly assesses which combinations it should deactivate. Sometimes, you might want to exclude a combination from that decision-making process.
There are several reasons you might want to protect a combination.
A combination performs better according to your own analytics.
There are internal reasons why certain combinations should remain active, regardless of their performance.
A variant's isolation combination is performing well and would otherwise be deactivated.

Note: Protecting an isolation combination is not possible at the moment. This feature will be available soon.
To protect a combination, open the combination panel and select the gear icon, then click the "Automatic" option.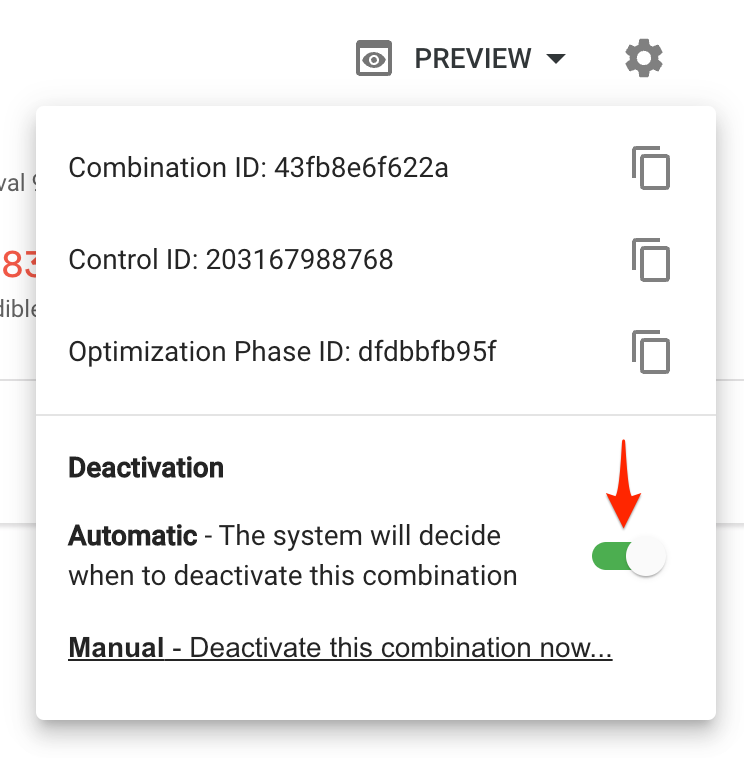 See and export activity for all project versions
Manager
In any project version, when you navigate to the Activity page you'll see an option to "include all project versions." When selected, all the activity from any version in the current project will appear in chronological order. Disable the toggle to view only the current version's activity.
Use the download button if you want to export the activity to a CSV file.

Download project files from the activity feed
Manager
When you change a live project, such as adding or removing variants, those changes appear in the project's Activity Feed.
You can export the project file from any update by clicking the VIEW CHANGES button and clicking the "Export this version" link in the modal.
Highlight the exploitation combination
Manager
We've added an exploitation label to help you understand when an exploitation combination is active and how much traffic it's receiving.
Exploitation is the system's way of maximising performance while it's unable to create the maximum number of concurrent combinations.
In the below example, Combination 31 is exploiting Combination 13. The label "27x" means that combination of variants is getting the same amount of traffic as 27 combinations.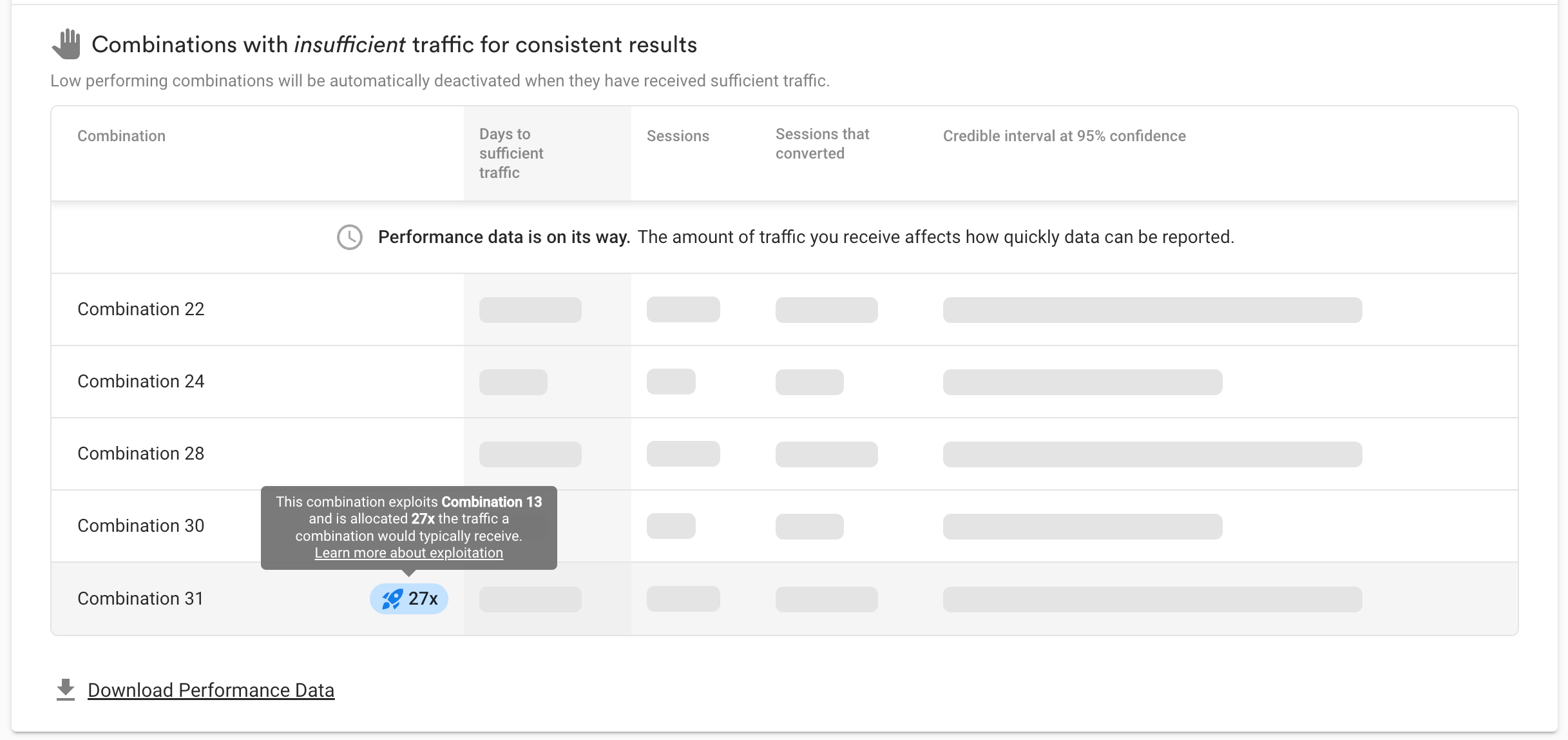 Manually load inactive combinations
Manager
On the Combinations page, only the active combinations will load by default.
There's a button to SHOW INACTIVE COMBINATIONS. When clicked, all the inactive combinations will load.
By separating inactive combinations, page load time and overall Manager performance is improved.

April 6, 2023
A simple way to run an A/B Test
Manager
Evolv AI now supports traditional A/B testing with a dedicated A/B experimentation type.
Select the A/B Test option when creating a new project to run all variants in their own combination in a single phase.
A/B tests are ideal for testing single ideas, especially if they're all part of the same variable.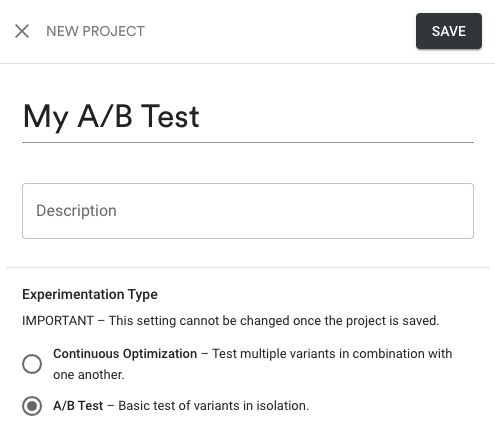 March 22, 2023
View reports by phase
Manager
Reports on the Overview page can be viewed by phase. Select the desired phase and the date range will update accordingly.
The current phase is selected by default. You can select any phase individually, or select "All Phases" to see the all activity from the project version.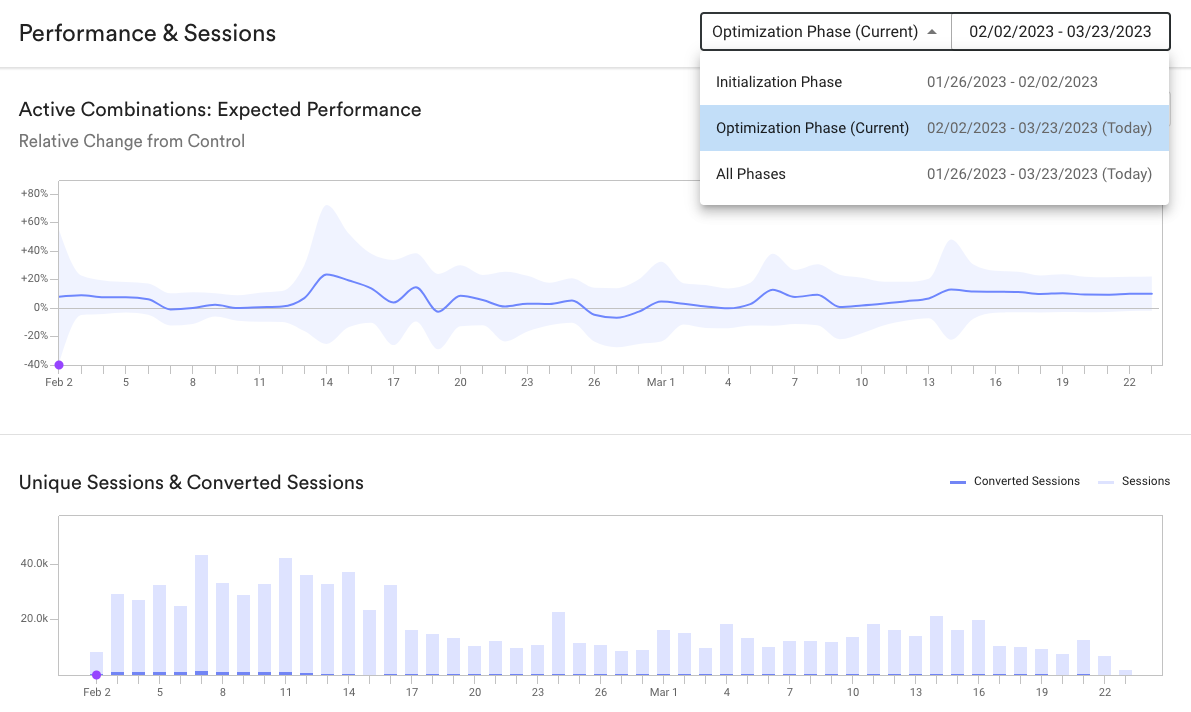 See disabled variant performance
Manager
View disabled variant performance by selecting a toggle on the Variants page.
When you disable a variant it is removed from all active combinations. That doesn't mean you don't care how it performed while it was enabled.
Use the "Show disabled variants" option to see any variants that are disabled. The option is only available when there are disabled variants.

February 15, 2023
Export combination performance
Manager
In the combinations table, click the "Download Combination Performance" link to export combination performance data to a csv file.
Sessions
Converted Sessions
Conversion Rate
Relative Credible Interval Lower Bound
Relative Credible Interval Upper Bound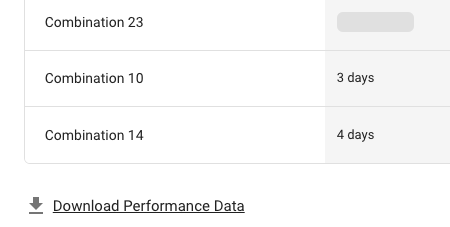 February 8, 2023
New: Evolv AI Chrome extension
There's now a Chrome extension to help you troubleshoot your Evolv AI projects right on the page.
Install the Chrome extension.
Visit a page where your Evolv AI optimization is running.
Open the Chrome extension and view the available project data.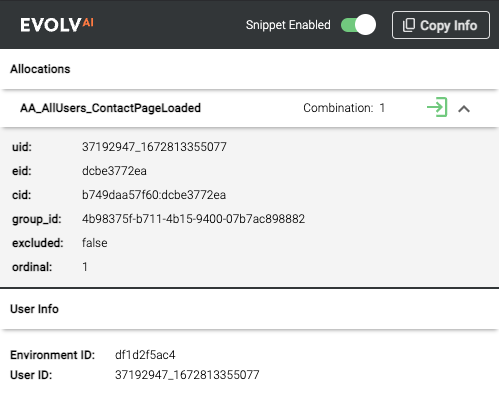 Async handling of project changes
Manager
If you work on projects simultaneously with other team members, you'll get notified when a project you're viewing has changed.
Click the refresh button, and the page will reload with the latest project details.
Redirect variants for URL split tests
Web Editor
The Evolv AI Web Editor supports a redirect variant type to make it easy to implement URL split tests into your optimization.
Redirect variants are available in version 1.30.65 or higher of the Evolv AI Web Editor.
Select Add Redirect Variant and enter the target URL in the panel provided.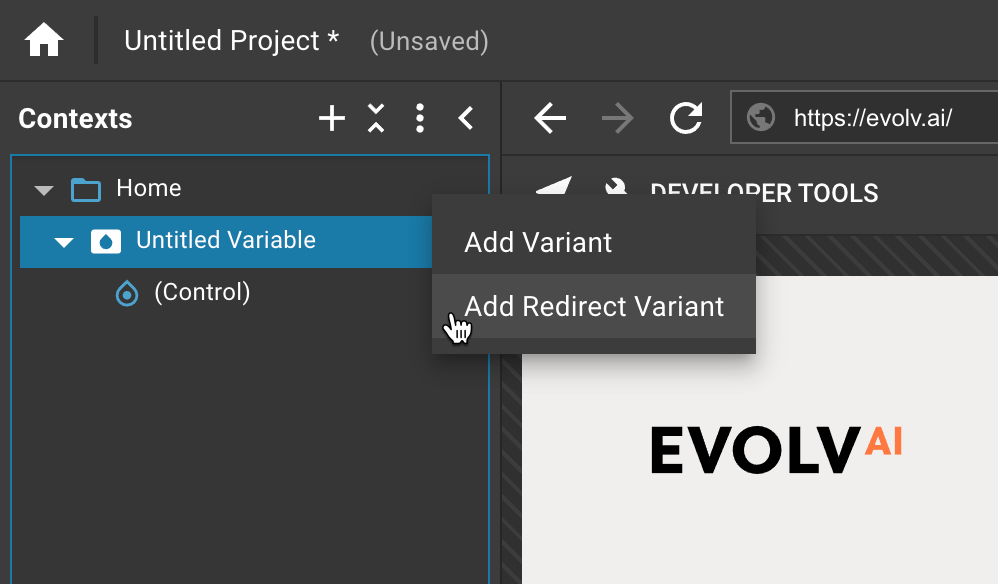 Filter projects by their status
Manager
Filter projects by their status using the dropdown on the projects page.
You can select:
Live
Draft
Paused
Stopped

Delete events in the Manager
Manager
You can delete events in the Manager, provided they don't belong to an active project version.
Click on the event and select the delete option from the event panel. Deleted events do not appear in the events list.
Use this option to clean up your events list by removing unused events.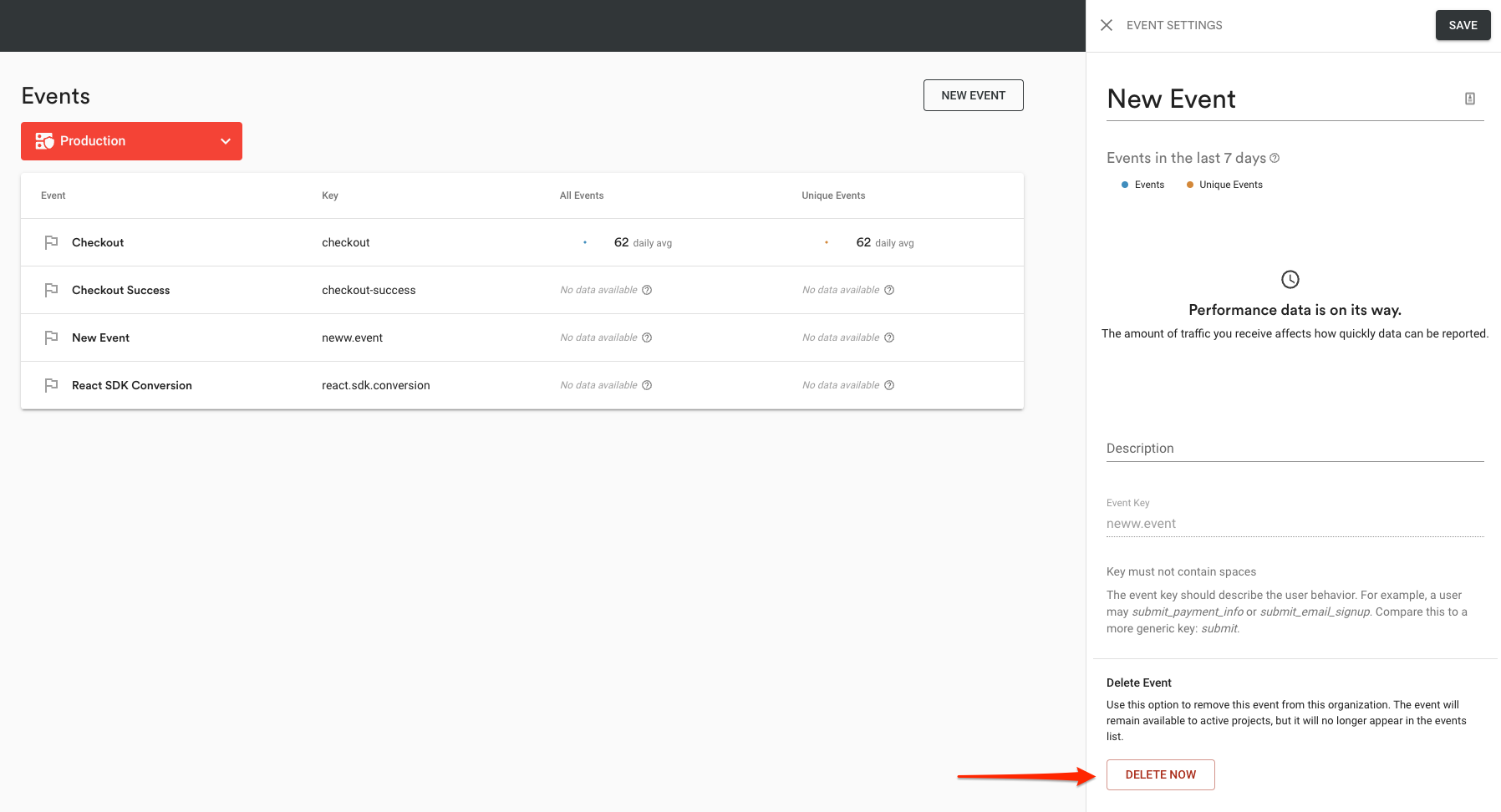 Show combination details
Manager
For advanced users, you can view the ID and strategy for each combination by enabling the "show combination details" option on the combinations page.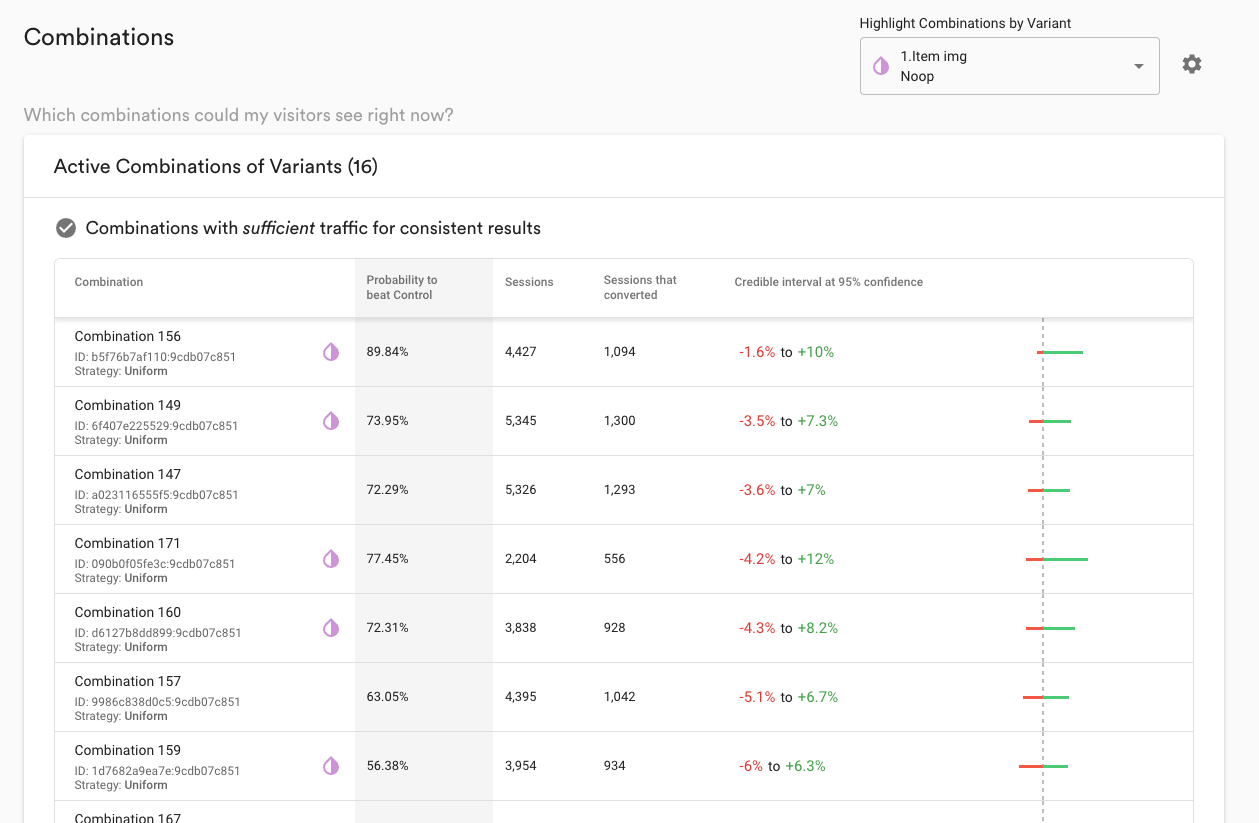 No confirmation events for session-based projects
Session-based projects no longer send confirmation events.
To check whether your project is confirming users, use the new Chrome extension. You can also open one of the data requests in the network tab of your browser's developer tools window and find the "confirmations" key.
January 17, 2023
Automatically set the number of concurrent combinations during the Optimization phase
Manager
When moving a project live, select the "Computed Size" option to have the system automatically decide the maximum number of combinations the phase should have based on traffic and conversions.
We do this to ensure the project gets the right amount of data to keep moving forward.
The Initialization phase is limited to 9 ideas to stop the system staying too long in initialization.
Select "Fixed Size" to maintain the number of combinations seen during the Initialization phase.
Select this option if you are running a small multi-variate project. E.g., a couple of variables with one or two ideas in each.
Or if you know your traffic and conversions are expected to change, and you want to maintain the same number of combinations in each phase.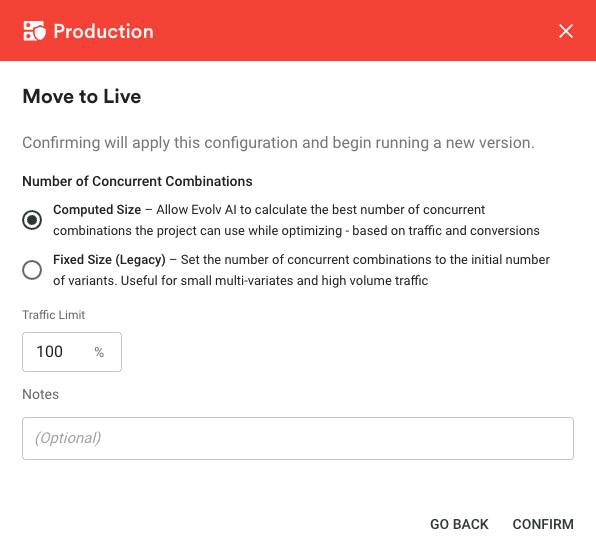 Send traffic to the top-performer when there aren't enough combinations
Manager
Always be testing!
If the system is unable to generate the required number of combinations, it will maximise traffic going to the top-performing combination of variants.
This can happen if you have a small number of ideas and your project supports a large number of concurrent combinations.
The system will maximise conversions while it waits for you to add new ideas to your project.
January 9, 2023
Set variant as Control
Web Editor
You can set any variant as Control for a given variable while editing your project in the Web Editor.
Enable editing Control in the project settings.
Right-click the variant and select 'Set as Control'.