Here are all the latest releases and features from Evolv AI.
January 17, 2023
Automatically set the number of concurrent combinations during the Optimization phase
Manager
When moving a project live, select the "Computed Size" option to have the system automatically decide the maximum number of combinations the phase should have based on traffic and conversions.
We do this to ensure the project gets the right amount of data to keep moving forward.
The Initialization phase is limited to 9 ideas to stop the system staying too long in initialization.
Select "Fixed Size" to maintain the number of combinations seen during the Initialization phase.
Select this option if you are running a small multi-variate project. E.g., a couple of variables with one or two ideas in each.
Or if you know your traffic and conversions are expected to change, and you want to maintain the same number of combinations in each phase.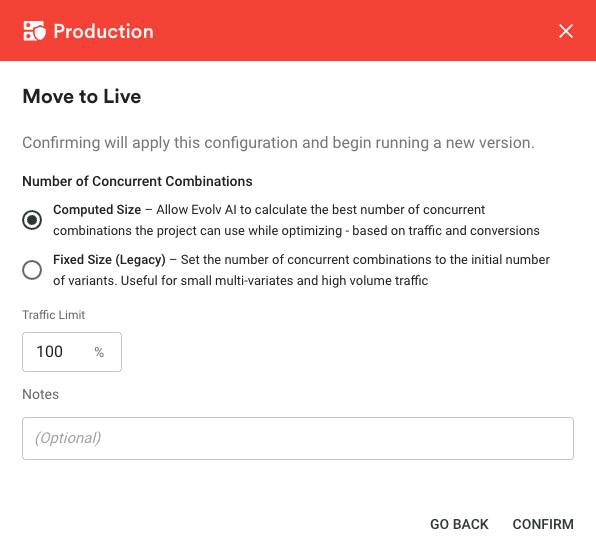 Send traffic to the top-performer when there aren't enough combinations
Manager
Always be testing!
If the system is unable to generate the required number of combinations, it will maximise traffic going to the top-performing combination of variants.
This can happen if you have a small number of ideas and your project supports a large number of concurrent combinations.
The system will maximise conversions while it waits for you to add new ideas to your project.
January 9, 2023
Set variant as Control
Web Editor
You can set any variant as Control for a given variable while editing your project in the Web Editor.
Enable editing Control in the project settings.
Right-click the variant and select 'Set as Control'.