Evolv AI captures various geography-based properties of users based on their request headers. You can use these values to define project audiences and target variables to people in specific locations.
On this page:
What geo attributes can I use?
The geo properties collected by Evolv AI are based on AWS CloudFront request headers. Here is the complete list of properties available.
| | |
| --- | --- |
| Geo Property | Example Value |
| city | "San Jose" |
| country | "US" |
| lat | "37.18350" |
| lon | "-121.77140" |
| postal | "94088" |
| region | "CA" |
| tz | "America/Los_Angeles" |
Here's how it looks in the remote context.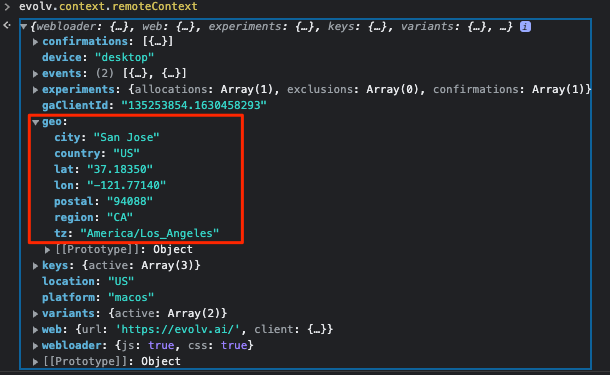 How to use geo attributes to target a variable
Using behavioral targeting, you can target variables to a subset of your project audience.
Open the Evolv AI Manager and select your project.
While on the Draft tab, go to the Variants page.
Click on a Variable to open the side panel.
Select the TARGETING tab, ADD CRITERIA, and choose the Custom Attribute option.

Enter the relevant geo key. For example, "geo.postal" if you want to use the postal/zip code.

Click SAVE when you're done, and move the changes to live.
How to use geo attributes to build an audience
The use of custom attributes in audiences requires a change to the schema.
Add the geo attribute to the schema.

If you're targeting the user's postal code, set the source_field to "geo.postal" and likewise for other geo attributes.

Once you've added the attribute to the schema, use the attribute to define a custom audience.
You now have a project audience that targets users in a specific location. Explore other geo attributes to find the right targeting option for you.