This article talks about the Projects page in the Manager and what information is available for each project.
Table of Contents
The project listing
The Projects page is where you can see all the created projects for your organization.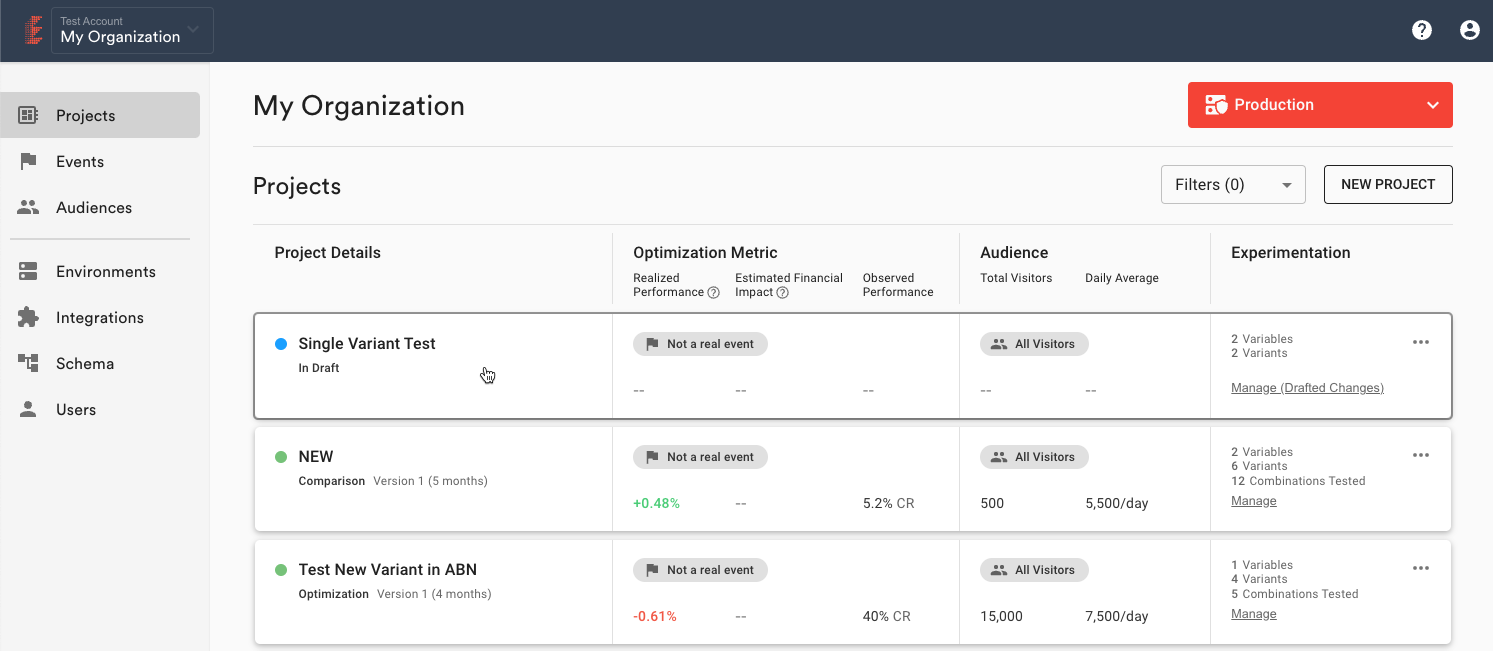 Each project contains details about its current state and overall performance. Click the project row to go directly to either the Draft or Live tabs, depending on whether the project is running.
A project that's "In Draft" will open the draft tab.
The "Manage" link will also take you to the draft tab, regardless of the project's state.
Use the context menu (three dots) to access the project settings option to rename or archive the project. For stopped projects, this menu also has an option to view the project's performance.

Information for each project is broken down into four sections: Project details, optimization metric, audience, and experimentation summary.
Project details
Project name
Project state

A project is either In Draft, Ended, or in one of the active phases of Initialization, Optimization, or Comparison.

Colored status indicator

Blue: In draft, not started.
Orange: Paused.
Green: Active, running.
Grey: Ended, stopped.
The Optimization Metric
What are we optimizing for, and how is the project performing?
A label indicates the project's primary optimization metric - what we're optimizing towards.Below is a summary of the performance metrics included.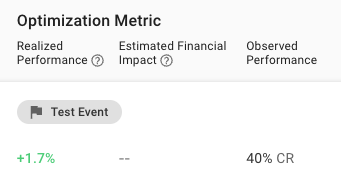 The current performance since we started the latest live version of the project.

This is the same metric that appears on the Overview page.

Estimated financial impact

The financial impact of the current performance, provided there's a value for the average conversion value.

The Estimated Financial Impact is based on the average conversion value specified for the optimization metric and audience.

This feature is available by request.

Observed performance
The absolute observed performance of the visitors in the project.
Learn more: About the Optimization Metric
Audience
What is the predefined audience being targeted? How many visitors have we seen in total, and how many visitors are there per day on average?
A label indicates the selected project audience and the following visitor metrics are available.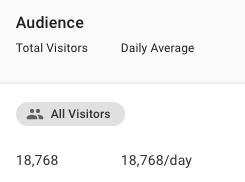 | | |
| --- | --- |
| Total visitors | The total number of visitors in your project. |
| Daily average | The average number of visitors per day in your project. |
Learn more: About the Project Audience
Experimentation
How many Variables (hypotheses) and Variants (ideas) are we testing? How many combinations have we tested?
The experimentation summary includes the number of variants, variables, and tested combinations to date.
Tested combinations refer to the actual number of combinations tested so far. It is different to the total possible combinations, which is the maximum number of combinations of variants based on the current project scope.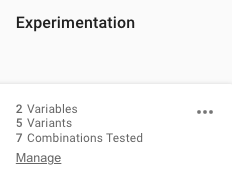 Use the Manage link to make changes to the project using the Draft tab. The link will tell if you if there are changes different to what's live.