This article describes how to create, edit, and delete contexts in the Web Editor
Table of Contents
A context is a set of definable URLs within a project that meet the domain and path-matching rules established in the Editor. It's where variants are created and applied.
Learn more: About Contexts
Creating a context
Click on the plus ("+") icon next to Contexts in the left panel.

If this is your first context, use the Create a New Context button.


Enter the URL of a page that matches the context you want to create and press enter to load the page.
Click the CREATE CONTEXT button next to the URL field.

In the NEW CONTEXT panel, add any reference URLs and Path Matching and Domain Matching rules you wish to apply to this context.

Keep the checkbox selected if you want visitors to enter the experiment by visiting a page that matches this context.

Click the SAVE button when finished.

Editing a context
To edit a context, right-click on the context in the Contexts panel and choose Context Configuration, or click the Settings icon at the top of the selected context palette.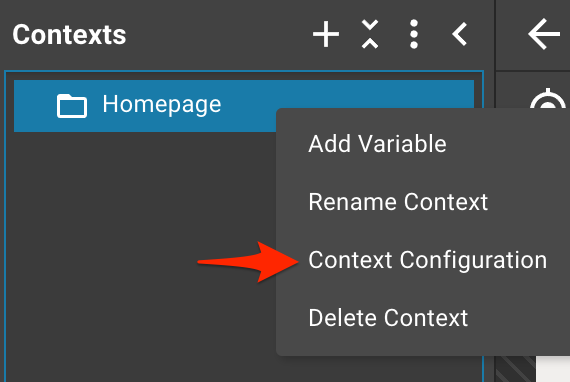 Deleting a context
To delete a context, right-click the context and select Delete Context.