This article describes what audiences are and the different ways they can be used to target your visitors and analyze the performance of your optimization ideas
Table of Contents
What is an Audience?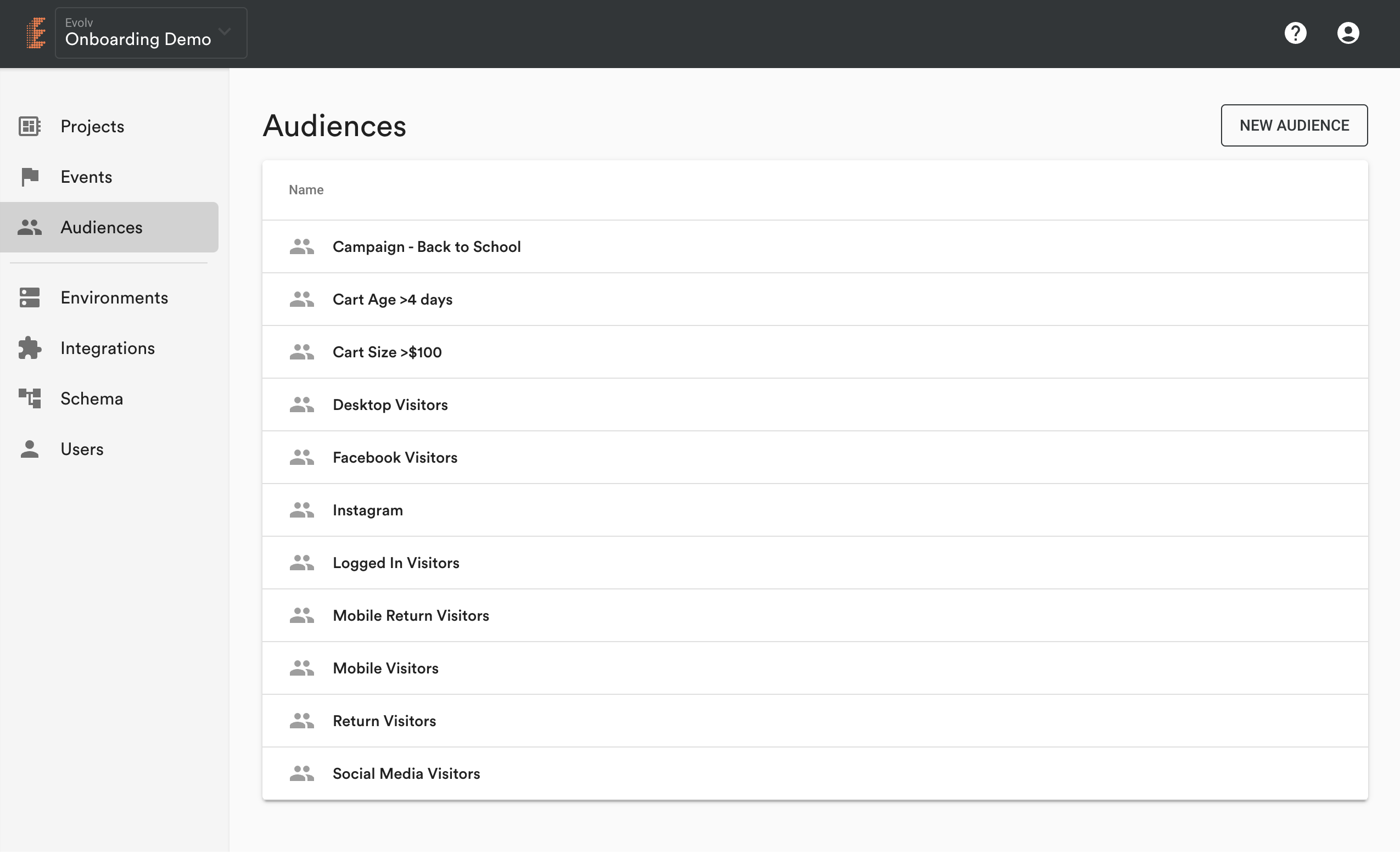 An audience represents a unique group of visitors to your digital experience. What sets an audience apart is the specific set of criteria that defines it. This criteria can encompass a range of characteristics and behaviors your visitors exhibit. Audiences play a pivotal role in running projects on distinct segments of your visitor base and filtering performance data for deeper analysis.
Audiences in the Evolv AI platform can be used to target visitors across your optimization program, ensuring consistency and efficiency in managing visitor segments.
Examples of audiences
To give you a clearer idea, here are some examples of audiences:
Mobile Visitors in the South East
Visitors that Added an Item to Cart
Return Visitors
Holiday Campaign Visitors
The Project Audience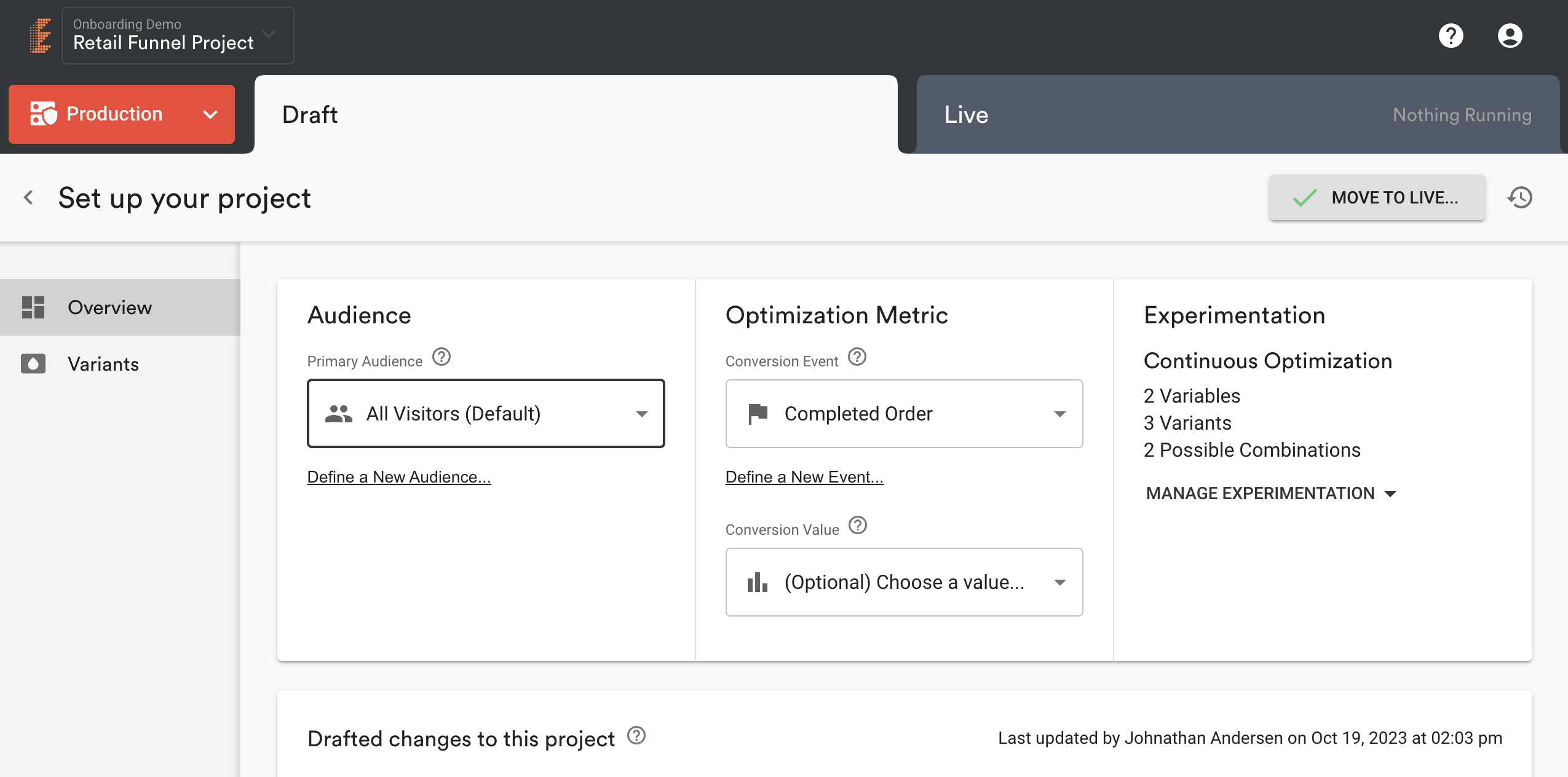 It's essential to differentiate between the Project Audience and its segments.
The Project Audience is the primary filter for including visitors in a project. In projects that use Continuous Optimization, the AI selects which ideas to test by evaluating the Project Audience's performance against the designated Optimization Metric.
Factors to Consider When Choosing Audiences and Optimization Metrics
Selecting the right audience and optimization metric for your project is a strategic decision.
Consider the size of your audience and the potential impact of performance gains on your overall business. Small improvements across a significant portion of your audience can substantially impact your bottom line.
Conversely, substantial improvements from a small segment may have a limited effect.
Another reason that it's important to be mindful of traffic volume and conversion rates is that they can impact the speed at which the system can make decisions with available data. This is because the system requires new variants and new combinations to receive a minimum amount of traffic before it will make decisions based on its performance. The more traffic you have and/or the greater the conversion rate, the faster the system can collect this baseline data.
Personalization within a project
Audience targeting can be used to personalize the experience for different segments of the project audience.
Manual Personalization
Narrower filtering can be manually applied to individual variable groups and variables to test how personalization impacts the customer experience. When analyzing performance data, you can filter reports based on segments of the Project Audience, gaining more granular insights.
Learn more: Adding targeting criteria to a variable
Auto Personalization
Auto personalization is an automatic, data-driven process the system runs to detect potential interaction effects between audience segments and the variants being tested. Once detected, the system will automatically validate the opportunity by conducting its own test against the best variant for the average visitor.
Talk to your Evolv AI account manager to learn how to use Auto Personalization.
Audience targeting criteria
Audiences are constructed by defining criteria targeting a combination of first, second, and third-party data.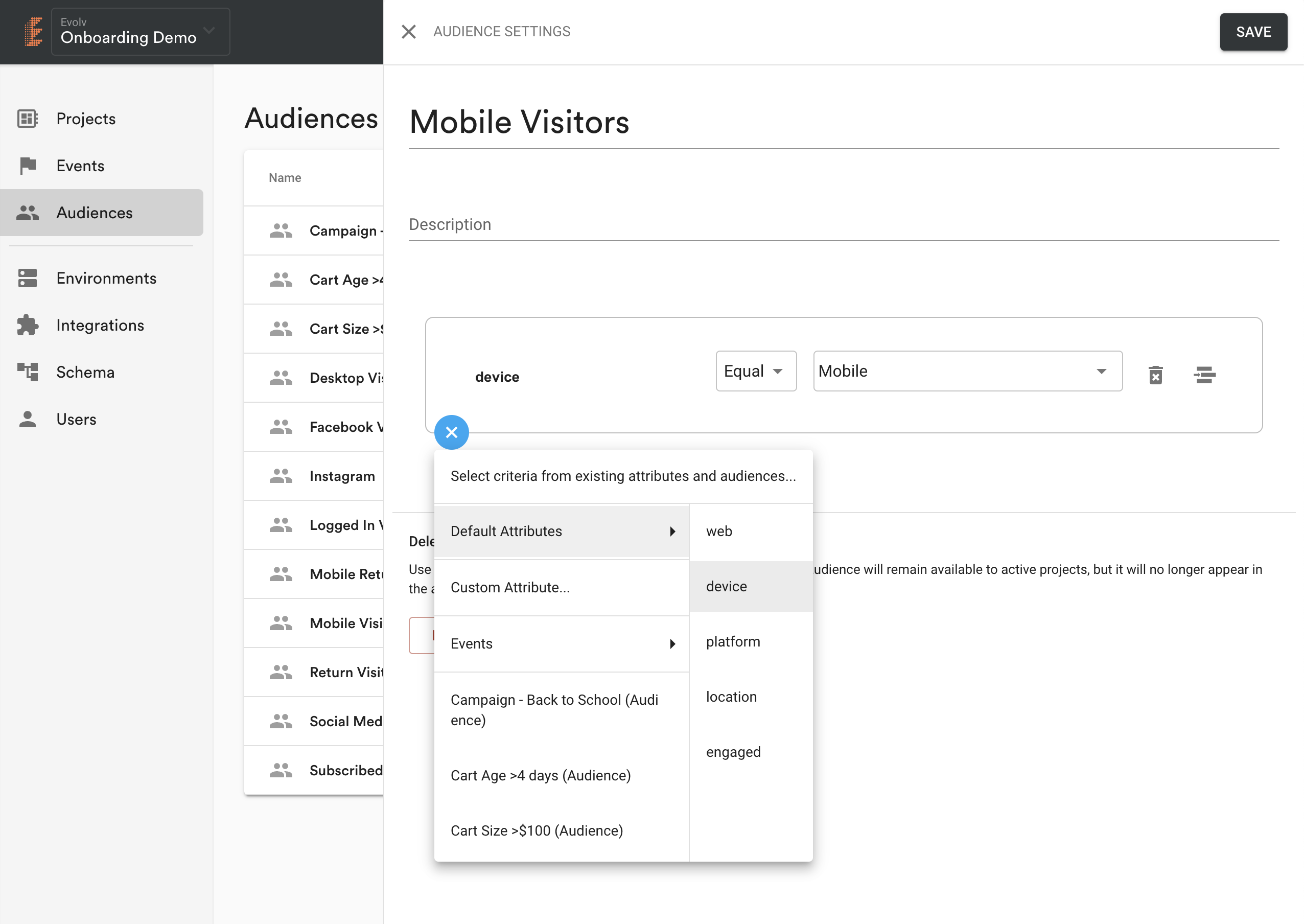 There are several types of audience targeting criteria:
Default attributes
Default attributes are defined in the organization's Schema.
Default attributes include:
Web - Web attributes include browser and URL criteria
Device (type)
Platform
Location
Time
Custom Context Attributes
In addition to attributes defined by the browser, you can add your own attributes to the session context.
Learn more: About Evolv AI's Session Context
Context attributes should be added into the schema in the Manager. They are also available to all projects. They must also be set from your digital experience and can be either strings, numbers or booleans. These context attributes can then be used to build an audience in the same way as the default attributes.
Once added to the Manager, a context attribute can be selected from the 'Default Attributes' menu when adding criteria to an audience.
Learn more about context attributes:
Event criteria
Event criteria is used to filter an audience by whether an event was fired or not. For example, an audience may target people that click on a call to action or that use a particular feature in your digital experience.
Learn more: About Events
Using existing audiences
When creating an audience, you can easily incorporate criteria from existing audiences, streamlining the audience creation process and maintaining consistency across projects.
Learn more: Creating an audience
Performance Analysis
While the AI uses the project audience to make optimization decisions, the performance of other audiences can supplement the analysis of your metrics.
Using the filters at the top of the reporting experience in the Manager, you can choose from audiences you've already created or build custom audience filters on the fly.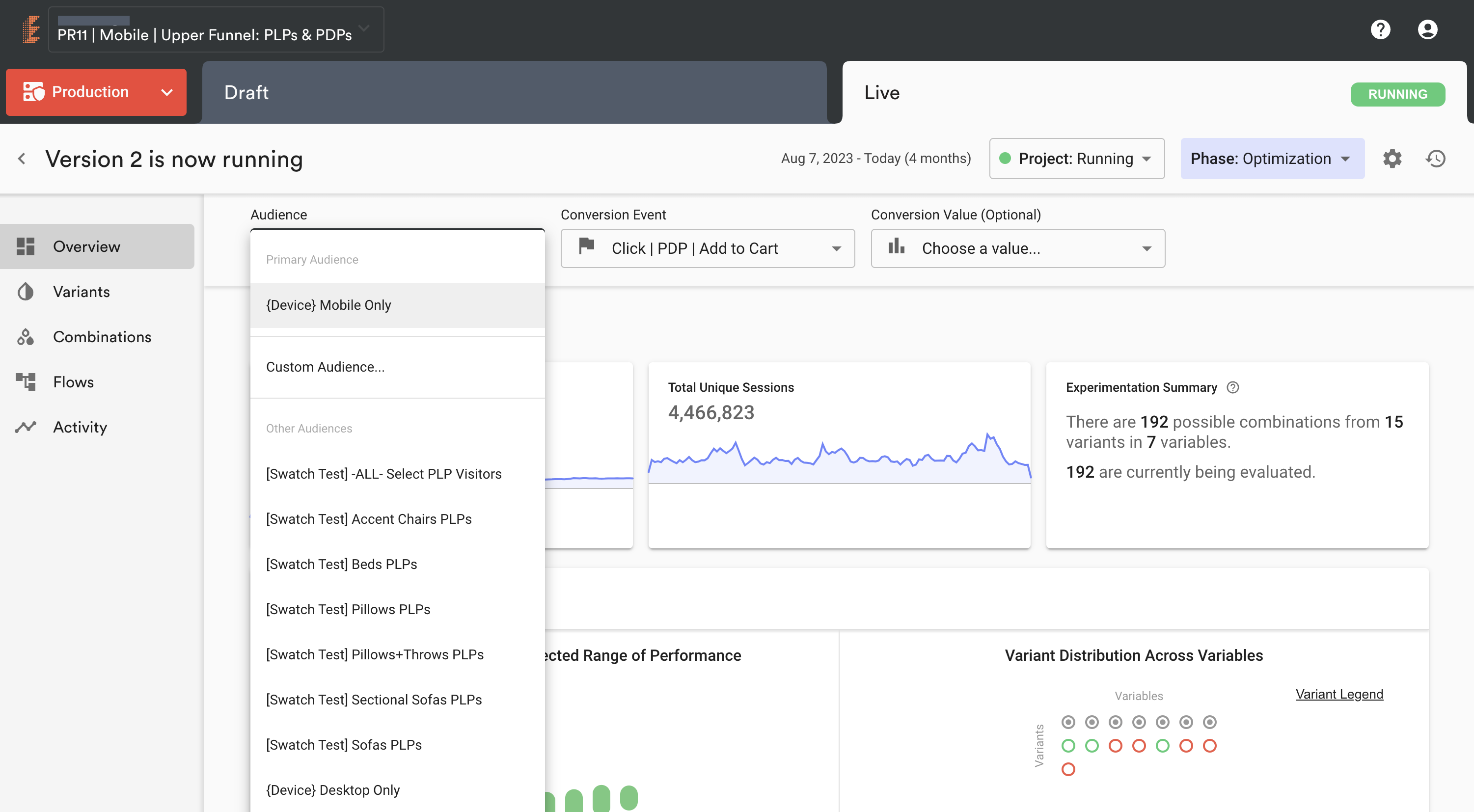 One example of using the audience filter is for a project whose primary audience is "All Visitors". The audience filter can be used to analyze the performance of mobile and desktop visitor segments.
Example audience filters:
Device equals mobile AND cart size > 100
Device equals desktop AND location
Channel equals Facebook AND subscribed via first-time offer