Use components to define elements you want to modify within your project.
On this page:
What is a component?
Components are the elements of a page that a variant may change. A component is defined by a selector and can be hierarchical.
Here are some examples of components.
Headlines
Hero images
Add to Cart Button
Navigation menus
Content sections and columns
Interactive Dialog containers
Steps to create a component
Select a context from the list, then click the inspect tool below the address bar or in the Components panel.

Hover the mouse over the web page to highlight the element you want to use.
Click on an element to add it as a component.

Sometimes, the element you really need might be different to the one you clicked.
Right-click the element to help you find the right selector.
Hover over the options and see the highlighted element changes on the screen.


Rename the component or change its selector as needed.
Important: Changing the component's selector should be done by someone familiar with HTML and CSS experience.

How to name components
By default, the component is given the name of the HTML element associated with the selector. You can change the name by clicking the component name in the Components panel on the left or at the top of the component Styles palette on the right.
Best practice for naming components
Make component names distinct from one another. This will allow ALLI, the AI assistant, to understand your intent better when describing variables and variants.
For example, instead of naming a component "Heading," be more specific about which heading it is, like "Product Heading."
If you have a variable that is changing the heading of the product detail page and another variant changing the heading of one of the product options, then you'll want to name these heading components distinctly, such as "Product Heading" and "Product Option Heading."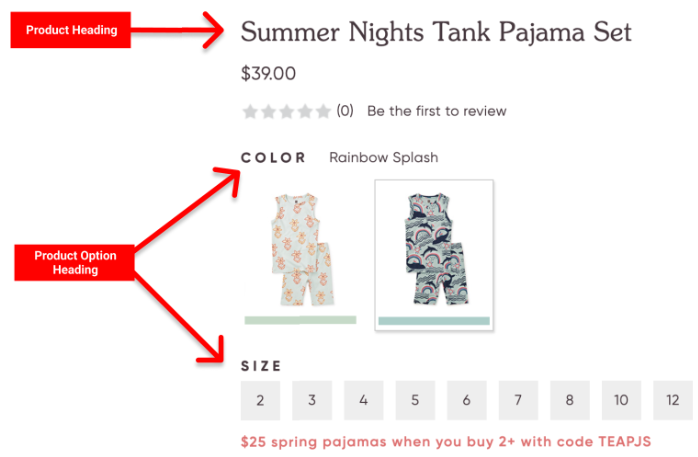 Deleting components
Right-click the component in the list and select "Delete Component" to delete it. You can also click the rubbish icon in the style panel.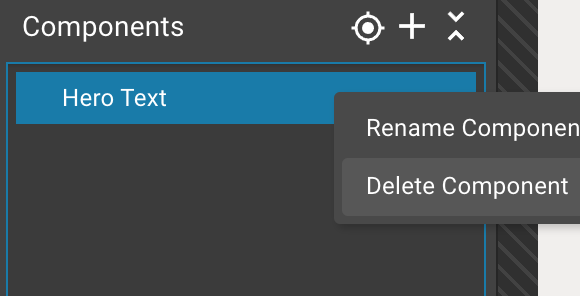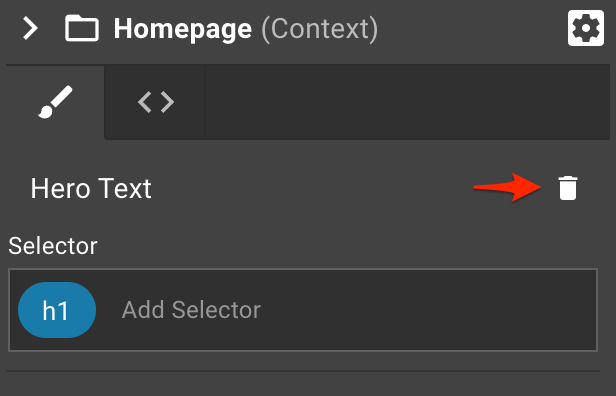 Example components
Here is a list of common components you might create for your project.
Components

Examples

Common HTML Elements

Headings

Page headings

Section headings

Widget headings

h1 - h6

Sometimes non-heading elements are designed to look like headings.

Body copy, Labels

Product description text

Inventory status messages

Form field labels

p, label

Sometimes divs are used to contain and style text.

Buttons, Links

Add to Cart button

Cart page links

Form submission buttons

button, a

Sometimes clickable elements may use a div


Lists, List Items

Production options on a PDP

Navigation and navigation items

Related products

Value propositions

ul, ol, li

Sometimes non-list elements, like divs, are made to look and behave like lists.


Tables

Size charts

Product specifications

Pricing breakdowns

Order summaries

table
tr (table row)
th (table head)
td (table data)

Sometimes non-table elements are made to look and behave like tables.

Containers

Hero sections

Page columns

Widget boxes

header, section, div, article, aside, footer